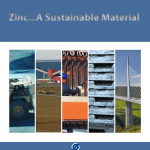 Zinc…A Sustainable Material
This publication outlines zinc's essentiality for sustainable development through nine sections – natural, essentiality for the environment, durability, recyclability, essentiality for human health, essentiality for crops, a sustainable source of energy.
To download this publication in English, click here. To download this publication in another language, please click here and then choose which language you would prefer.
---
Zinc Environmental Profile – Life Cycle Assessment – 2015 Update
Understanding the environmental footprint of zinc starts with documenting the resource requirements (energy and non-energy) and environmental releases associated with zinc mining and refining, but it also involves understanding the impacts and the benefits of using zinc during other stages in the product life cycle. These benefits can arise in use (extending the life of galvanized steel products) and through end-of-life recycling (by utilizing recycled zinc to create new products). This environmental profile was developed to provide updated information from the original Zinc Environmental Profile published in 2010 and life cycle data on primary zinc to stakeholders along the zinc value chain.
To download this publication, click here.
---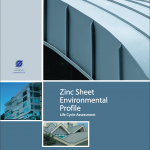 Zinc Sheet Environmental Profile – Life Cycle Assessment
Zinc sheet has a number of attributes that make it desirable for use in a range of applications. It is durable; it is 100% recyclable, and for major applications such as roofing and wall claddings, the recycling rate reaches 95%. This high recycling rate significantly reduces the impacts of the production of the zinc used in zinc sheet. Zinc is also aesthetically pleasing, which means it is less likely to be replaced before needed.
To download this publication, click here.
---
 Guiding Principles
---
Recycling Fact Sheets